August seems to be the time of year I crawl out from under my rock, put on a pair of pants and make some public appearances. This year being no exception, I shall be at the following events:
Collins Booksellers, Edwardstown – National Bookshop Day (9th August , 1:30pm-2:30pm)
Flinders University, Writers and Their Worlds – (21st August,  12pm)
Dymocks, Adelaide (23rd August, 12pm)
At each of these events I'll be selling the new print run of my zombie apocalypse novel "Quiver" (snazzy new cover as pictured below) and my short story collection "Everything is a Graveyard". The Flinders University event is part of a series of intimate author talks, and I'm really looking forward to chatting to folks about my experiences with writing, dispense some hard-won advice, and generally chat about word-wrangling.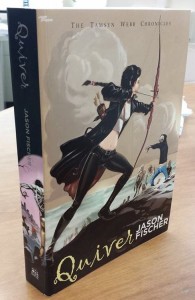 If you find yourself in the neighbourhood, drop by and say gudday!