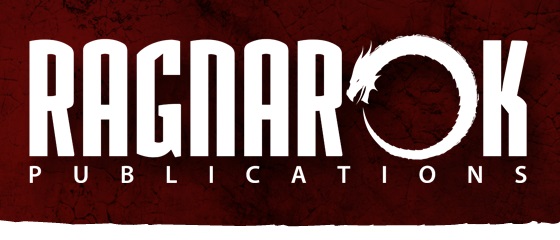 EDIT: Ragnarok Publications has temporarily closed its doors, and are no longer publishing "Papa Lucy and the Boneman." Sad news but I don't envy their position – they are doing the right thing by their existing authors and right holders, and I wish them all the best.
In other news, I once more have a novel for sale

onwards and upwards.
More information here: https://www.ragnarokpub.com/single-post/2017/11/15/Changes-at-Ragnarok
I'm very excited to announce that my novel "Papa Lucy and the Boneman" has been acquired by the most excellent Ragnarok Publications. This book has been a labour of love for many years now, and it's a great feeling to find it such a good home.
Set in a world of scavengers and hard folk, "Papa Lucy and the Boneman" is the tale of a centuries-old family feud. In their quest to become gods, two immortal brothers put the savage world of Now into jeopardy. Only a fallen knight-errant dares to defy Papa Lucy. Armed only with an ancient gun and a forbidden knowledge, Lanyard Everett confronts a world-killer – and himself.
This setting started off in a series of short stories that I published in Aurealis magazine, and after many years of compiling background notes on the world and the characters, I realised that I had an epic fantasy novel on my hands. Back in 2011 I received a grant from Arts SA to produce the first draft of what would become "Papa Lucy and the Boneman", which I wrote during a 6 month sabbatical from my day job. I beat this novel into shape over a number of years, and now it is finally ready to hit the world.
Colour me excited! Press release follows:
ACQUISITIONS ANNOUNCEMENT:
Editor Gwendolyn Nix acquires two novels for Ragnarok Publications.
Gwendolyn Nix, Editor at Ragnarok Publications, has acquired rights to two novels for the Spring 2019 publishing season. Ragnarok Publications will be publishing Papa Lucy and the Boneman, a grimdark fantasy that is equal parts Mad Max and the Epic of Gilgamesh by novelist and winner of the Writers of the Future, Jason Fischer; and The Soulless, a dark epic fantasy in which a young man must face demons, seraph, and his own power in order to keep the world from falling into the hands of the first demon god, from novelist Kate Martin. "I'm thrilled to be able to continue growing Ragnarok's dark fantasy and grimdark titles with these two authors," Nix said regarding her first acquisitions for Ragnarok Publications. "Both authors have created incredibly unique and engaging worlds with striking characters. I can't wait to work with both of them.""I'm really pleased to have found such a good home for this book!" wrote Fischer. "In my short fiction career, I've often blended Australiana and the Weird, and have taken the same approach with this novel. Papa Lucy and the Boneman has been years in the making and is my love-letter to several literary heroes, such as Jack Vance, Terry Dowling, Stephen King, and Gene Wolfe."According to Martin, "I am so excited to be working with Ragnarok Publications to finally bring The Soulless to shelves everywhere! Of all the stories I've written, this is the one I am most proud of to date. I've been watching the work Ragnarok has been doing, and I am thrilled that The Soulless has found a home with them."
***
Jason Fischer is based near Adelaide, South Australia. He has won an Aurealis Award and the Writers of the Future Contest, and his writing has been included on multiple awards shortlists including the Aurealis, Ditmars, and the Australian Shadows Awards. He is the author of dozens of short stories, with a novel, a short story collection, comics, and computer game work also under his belt. He enjoys karaoke and loves puns more than life itself. More information on Jason can be found at his website
jasonfischer.com.au
.Kate Martin is an adjunct professor by day, a dance teacher by night, and a writer every minute in between. Growing up on the side of a Connecticut mountain in the middle of nowhere wasn't much good for after school shenanigans with friends, but it was spectacular for building an over-active imagination. After getting her B.A. in Elementary Education, with a minor in Psychology, she found Seton Hill University's Writing Popular Fiction Program, graduating with her M.A. in June 2008, and then her M.F.A. in 2013. Her first story, "Poisonous Redemption," was published in July 2009 in
Rage of the Behemoth
. She is also the author of the YA Paranormal Romance series "Eternal Shadows." She still lives in Connecticut, but now with her well-read husband, clever daughter, and tolerant cat. You can visit her website at
www.kate-martin.com
.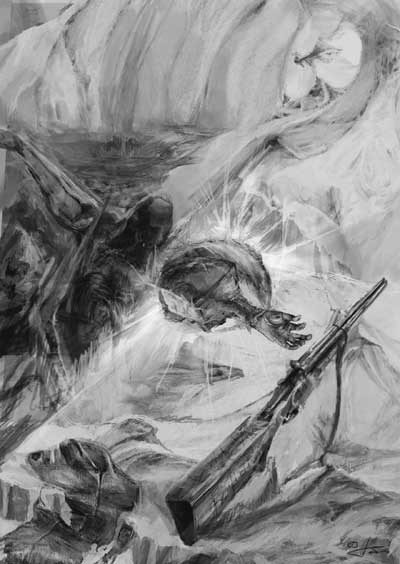 This artwork by Adam Katsaros is from the original short story "for want of a jesusman", first published in Aurealis Magazine #42