"About 200 camels have been removed from South Australia's remote Aboriginal lands as part of a feral camel management project.
Aboriginal people have been trained to muster the camels, creating an industry and turning an environmental problem into a source of income for the APY Lands.
The camels are transported to Queensland abattoirs for processing."
http://www.abc.net.au/news/2012-03-27/feral-camels-apy-lands/3914786
Wise. Best to eat them before they eat you…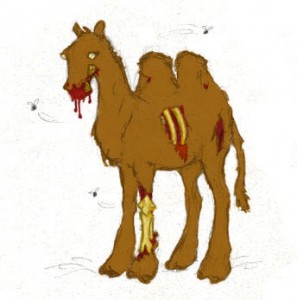 Doo-dah! Doo-dah!
(for the uninitiated – http://jasonfischer.com.au/?page_id=16)